Someone pissed me off again today.  You know.  Almost exactly the same thing that the same exact person did almost exactly a week ago.
The solution?
I came home and baked these cookies while watching Bridget Jones' Diary.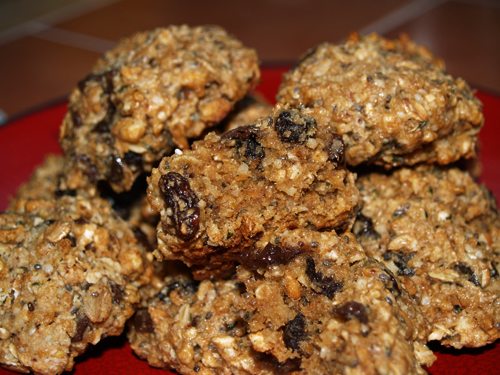 Did you know that I bought a new camera?  Yep, and I love it already.  I sold my old camera on eBay last week, and bought this Olympus Evolt E-500 DSLR used.  I ended up paying $20 for it after selling my Canon PowerShot SX10IS.
Now that's a price I can live with.
My first DLSR.  Now I really feel like a big girl.
I'm excited.
I regress…
THOSE Cookies.  Right.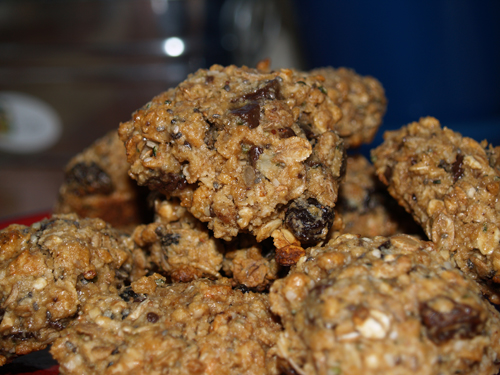 Oh, THOSE cookies.
Do you see the cute little chia seeds?
And the oat nuggets?
And the carob, chocolate, and raisins?!
I must be honest.  I didn't expect these cookies to turn out as beautifully as they did.  I was pissed off and baking, and that doesn't always equal success.  However, I chose to throw together many ingredients that apparently meshed well together because OH. MY. GOODNESS.  THESE cookies are so good!
They are moist, delicious, and have a crunchy exterior and soft interior.  Just the way I like it.
I also stuck 5 of them into Cali, so I'll let you know how those turn out tomorrow.
For now, just make these cookies.  And don't be afraid to throw in whatever you want to use.  I think that as long as you keep the wet/dry ratios consistent, you can use any old nuts/nut butter/flour/sweetener that you have on hand.  Go crazy.
Click here for the printable recipe!
Now.
Go forth and make  cookies!